Uma Uma Ramen
Forum The Shopping Mall
Singapore
PRICE: $$
RATING: ????-
My girl friend told me a new ramen joint had opened just last week, and interestingly one of the partners is  Ignatius Chan of Iggy's restaurant fame. Named Uma Uma Ramen, it's actually a Hakata-based chain in Japan that has now opened it's first international branch in Singapore. I'm a huge ramen fan, so was very excited to check it out with her.
It's a small restaurant with friendly staff, and was a full house when we were there on a week night – presumably because it's new so many wanted to check it out. Casual and sleek wooden tables and simple chairs, it really is an eat-and-go cafe.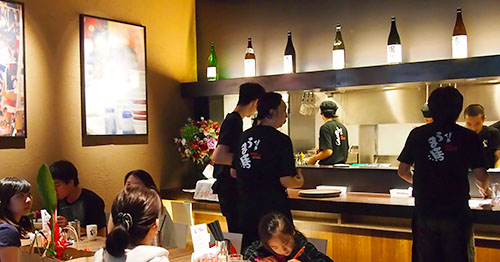 The menu is very very small. Just 2 types of ramen! The standard version for $14, and a spicy version for $16. You can add extra toppings and there are a few side dishes, but I just got the standard Uma Uma Ramen.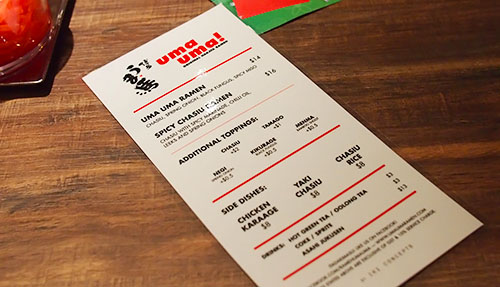 My Uma Uma Ramen was really good! Ramen is quite a personal-preference thing, but for me, I like mine with a fairly rich broth, lots of silky noodles, and super tender pork. This version really nailed it. The broth wasn't as fatty as other traditional tonkotsu ramen broth I've had, but in a way that's good because you don't feel too overpowered by the richness. I really liked the noodles – which were a thinner version of regular ramen.. almost like wonton noodles. They were very silky and tender, though my girl friend found the noodles and soup "a bit on the starchy side". It's interesting that she said that, because before she mentioned that, I just thought the creaminess was from the melted pork fat! Who knows…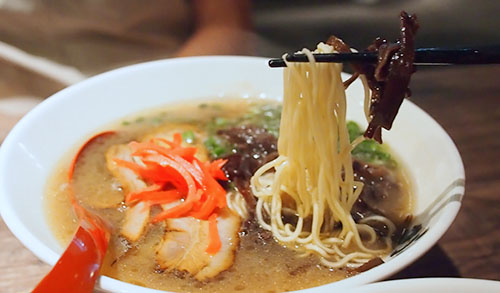 Uma Uma Ramen is pretty reasonably priced (considering they're right in the city) and serve up a mean ramen. Hunter's pediatrician is in the same mall, and I'll be giving birth in the hospital across the road, so I guess I'll be back for sure 😛
Let's Chat!