It's no secret that my handbag fetish extends to diaper bags. Between my girl friends and I, I reckon we own virtually every diaper bag that exists 😛 It's hard to explain the allure.. but every time you see a new one that just looks so functional and cute, AND it's "for the baby", your head sort of implodes and all rational thought flees the brain.. faster than you can say "I'll buy it!"
I used my Lassig turquoise diaper bag for yonks, because it was practical and a gorgeous colour. However, after Hunter turned 1, it was a bit big for his needs. So I bought a Carter's diaper bag that was small and compact, and held everything I needed. I've been using that since, so it's gone a bit ratty and stained (hey, it was only $20!).
However, with another baby on the way, I'll be needing a larger diaper bag once again not just for #2's stuff, but also Hunter's.
That's when I discovered: Tribe diaper bags.
Crafted from gorgeous cowhide leather in a stunning array of colours, the brand was started by an Australian lady now residing in Singapore. I'll be frank – they do NOT look like diaper bags. They look like designer handbags! Mum, upon seeing mine, doubtfully said "It's not a diaper bag dear, it's a handbag".  BUT IT IS!!!!
The bags have a full leather exterior that my gf pointed out "is just like Miu Miu". She's spot-on. If you're familiar with Miu Miu bags, these are virtually the same – same thick lush leather, same vibrant colours, same type of style. But……. the difference is…. Tribe bags are SUPER functional because they're designed to be diaper bags.
Though, frankly, it works perfectly as a handbag 😉
Here's why – the opening is smooth and exposes the interior, so no rooting around. Great for when used as a diaper bag or as a hand bag. There are tons of compartments and pockets, and I mean TONS. Great to put all the baby stuff into, or to keep your own belongings organised when used as a handbag. And, have I mentioned how sexy and luscious the leather looks? Oooh, and the leather smells awesome too 😉
Diaper bags almost always scream – I AM A DIAPER BAG. This one merely looks like a luxury hand bag. In fact, I'll be using mine later as a handbag, and it'll also double up as a fab travel bag IMHO.
I have the Singapore Sling in raspberry, by the way. I fell in love with the vibrant *pop* of bright pink and the fact that it is a kickass handbag in itself.
I FRICKKIN' LOVE IT!!
Now, if only they would come up with this style in a mini size……….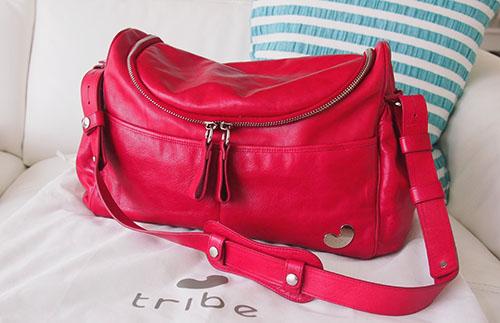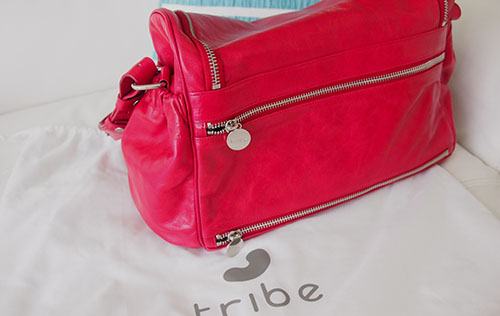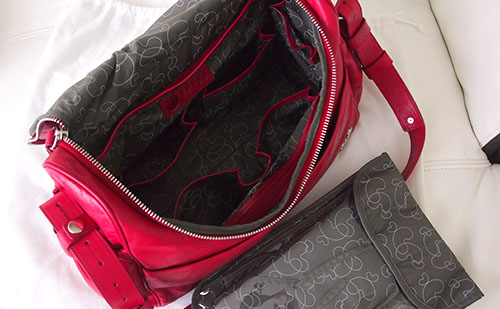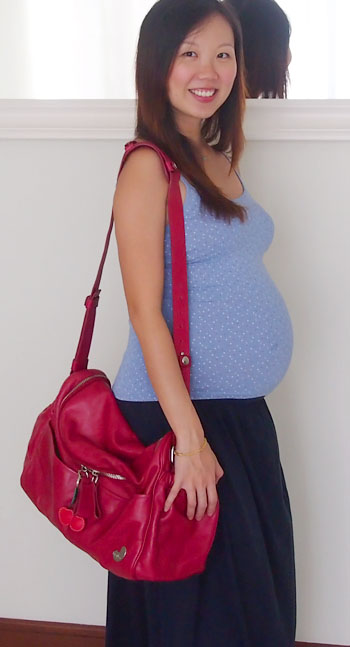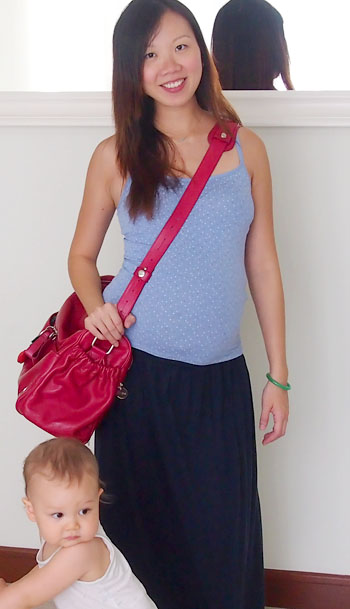 Hmmm.. I really ought to take some pics of my stuff all packed into my Tribe bag, but I haven't gotten round to it yet 😛