Choupinette
607 Bukit Timah Rd
Singapore 269708
PRICE: $$
RATING: ????-
I'd heard about Choupinette via a couple of girl friends and was keen to check it out, but it took me a couple of months to get there because it's in a bit of a random location. It's not in a shopping mall (always my favoured place to dine, because I can push Hunter around in his stroller afterwards whilst he naps), and not even in the middle of the city. I'm glad we finally made our way there though, because I really enjoyed it!
It was pretty packed on a Sunday afternoon, so I'd recommend going on a weekday if you can, or early on a weekend. The staff, however, were really friendly and prompt, which made for a great experience. I liked the vintage-feel of the decor and wood furniture, and the casual vibe of the place.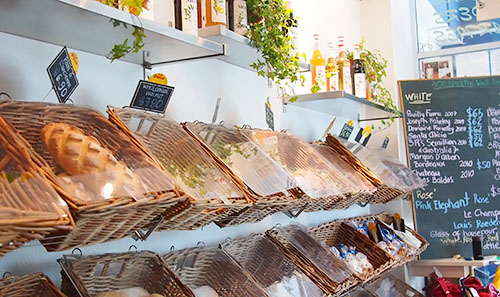 The menu isn't huge, but it does the job and we thoroughly enjoyed the food. Not cheap, but not expensive either. The Eggs Royale set was priced at $21 and came with Eggs on toast with smoked salmon and hollandaise sauce, with a hot beverage and juice.
The Hot chocolate came out in a large cup and was lovely and creamy – I liked it, though Chris found it merely 'alright'. The Pineapple juice was more disappointing to me, as it was basically the carton/cordial type, and nothing to shout about. At least they gave free flow of complimentary chilled water 😉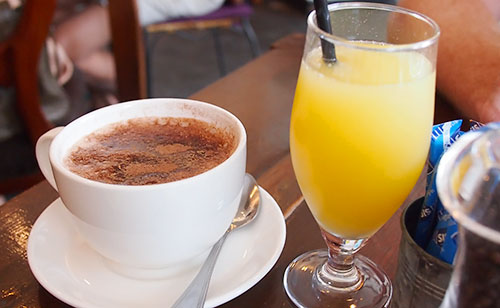 The Eggs on toast with smoked salmon and hollandaise sauce was awesome. Yes, it IS simple as you can see in the photo, but they do the eggs perfectly. It's not easy to get perfectly-done poached eggs in Singapore for some reason, so I was impressed with Choupinette's. Beautifully creamy and runny, without being undercooked. The smoked salmon was lovely and fresh, and brought a nice punch of flavour to the creamy eggs and bread. Tops!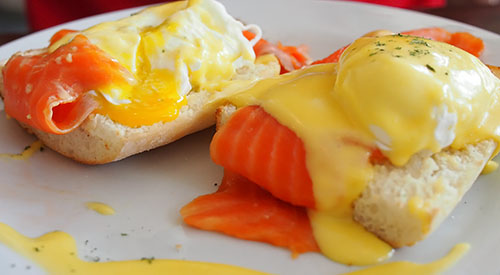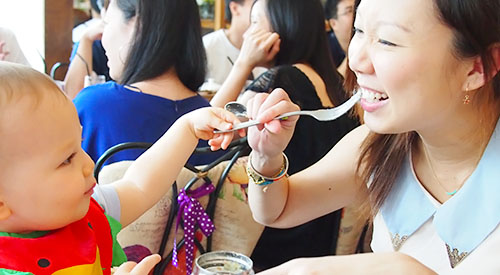 The Croque Madame wasn't exactly on the cheap side at $18, but at least it was superb! 2 thin slices of bread sandwiching lashings of ham and bechamel sauce, and grilled with a sunny side-up egg on top. The sandwich was really tasty without being overly salty, and the fried egg was luscious. Will definitely order this one again!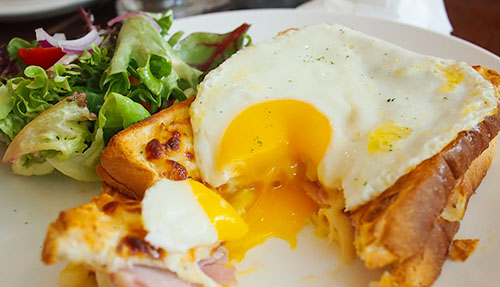 The Palais Royale is a dense chocolate mousse that's rich and creamy, with a very full-bodied chocolate flavour. It's fab. The base has some crispy hazelnut(?) bits in it and is the perfect accompaniment to the smooth mousse.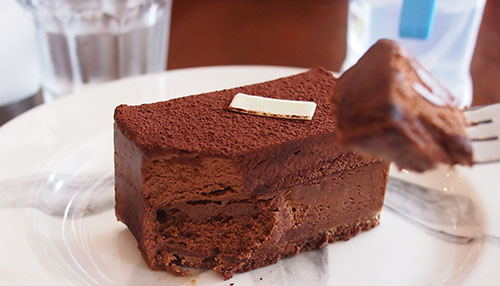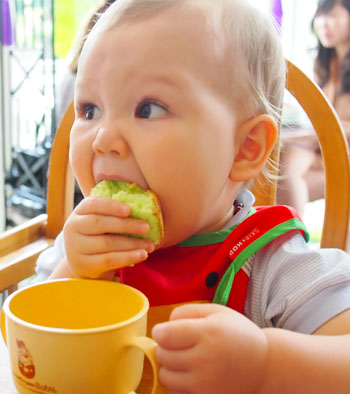 We also got the Chocolate-covered donut which was fantastic – creamy, good quality chocolate on a soft doughy donut. I normally don't like these things because they taste really synthetic or overly sweet, but this was lovely.
The Marmalade donut was the same donut base but shaped in a ball, dusted with sugar and with a squirt of jam inside. I thought it was alright, but hard for me to compare as I normally don't order this.
And, of course, I got the Chocolate croissant ($2.90). I simply cannot resist these and always get them at every cafe that has these babies 😉 It was fluffy, buttery, and lovely.
I'd go back to Choupinette for sure. Lovely food, great service, and an all-round good experience. Just wish they were in the middle of Orchard Road!
Let's Chat!