The White Rabbit
39C Harding Rd
Dempsey
Singapore 249541
PRICE: $$$$
RATING: ????-
I wanted to take Dad and Chris out for a nice Father's Day lunch, and decided on The White Rabbit, a cute little restaurant in Dempsey. I was last there for the Cosmopolitan/La Mer event with girl friends, and really liked the ambiance and excellent food. It's a bit Alice-In-Wonderland, and different from other restaurants because of the high ceilings and stained glass, which I believe are because it was originally a stand-alone chapel?
Service was very impressive – prompt and attentive. I love nice/fine-dining restaurants that are accommodating when you have a baby/young child dining with you and don't roll their eyes etc. And their high ceilings are actually quite practical because even if a kid makes some noise, it doesn't disturb other diners since there's so much space. Brilliant!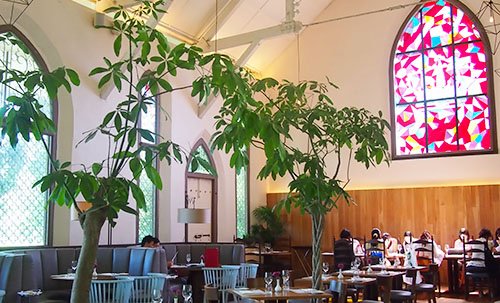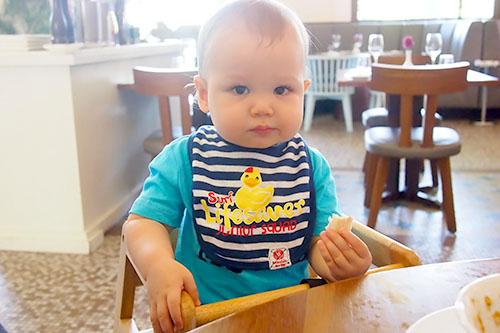 I had a drink called a Bettina. It had a delicious mix of lime, orange, lychees and apples in soda. And it really hit the spot on a hot afternoon!!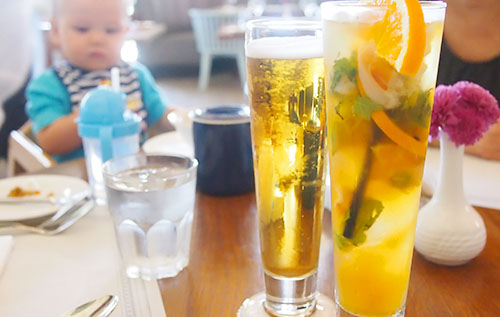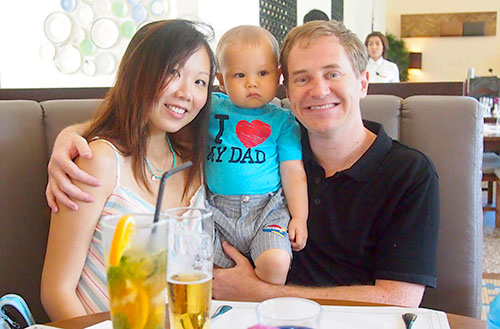 The Beef consomme with oxtail and mushroom tortellini was, as described by both Mum and Chris, "very beefy". LOL! I didn't try any so I can't comment..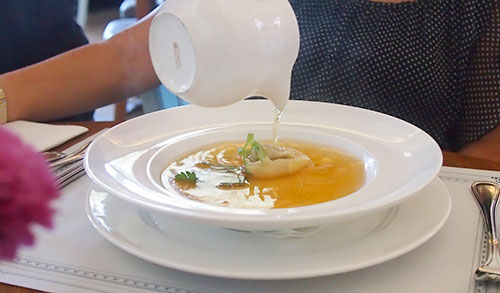 Dad's Tuna carpaccio provencal came out so colorful and pretty, though the tuna was only a very very very thin layer on the plate and would have been better with a larger portion. It was a nice, fresh, appetizer though, and so nicely presented.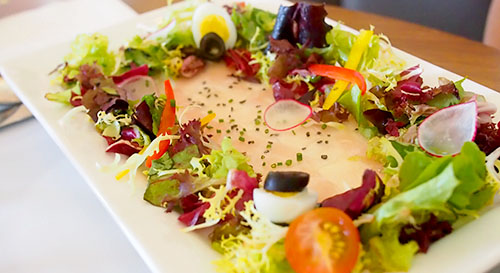 Chris' Baked cambembert parcel was equally lovely to look at, and very tasty. After all, how can you possibly go wrong with creamy cheese in pastry? 😉 It was really really small, though, maybe the size of a dumpling. Very sad, as the dish should have had 3-4 of these instead of just 1.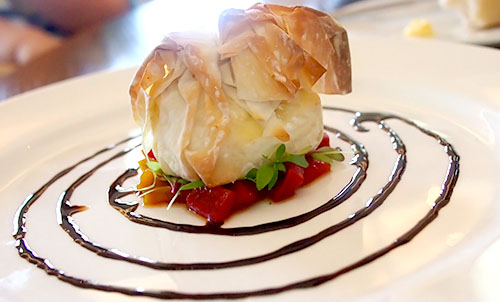 My Rustic mushroom soup surprised me because I was expecting a traditional creamy soup. This was more like a minestrone or consomme, with mushroom pieces as well as diced carrots and onions. I did enjoy it though, as did Hunter, so it was all good 🙂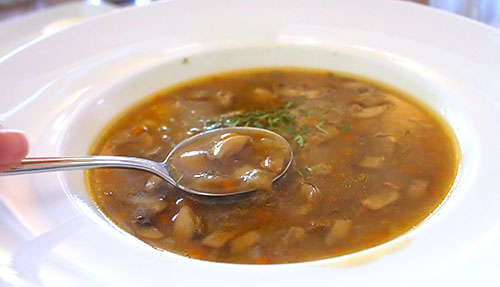 The White Rabbit signature Mac and cheese with spring vegetables and truffles sounded exciting, but it was didn't wow us. It was a fairly simple dish, and tasted good enough, but I found the scattering of veggies made it seem a little too homemade, like something I'd throw together at home.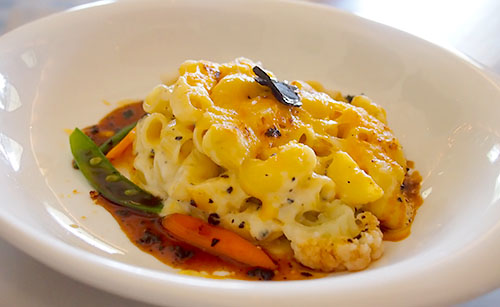 A healthy but very well executed dish was their Poached seabass with champagne mushroom broth and baby vegetables. It was very simple, but the fish was well cooked and very tender.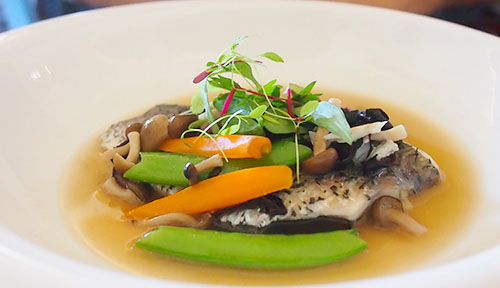 The Braised oxtail with pommee puree and roasted root vegetables was ridiculously tender and had a lovely, rich flavour. It was, however, a pretty small main meal and should have had 4 pieces instead of the 2 they gave.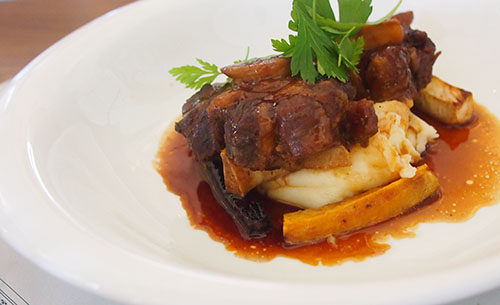 My Sticky toffee pudding with vanilla ice cream and caramel sauce was small but really hit the spot. It's more of a cake than a pudding (which I classify as a dessert with a very 'wet' or sloppy interior), but it paired beautifully with the vanilla ice cream and wasn't too sweet.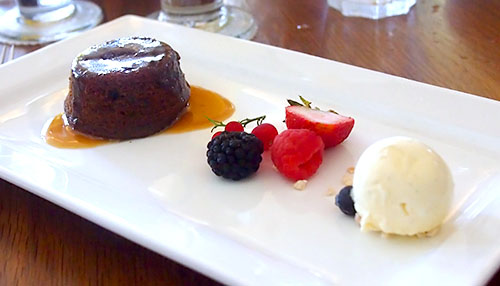 I didn't try the Baked alaska with vanilla ice cream cake and toasted meringue as I'm not a fan of this dessert, but Mum and Dad thought it was just "meh". The exterior took a bit of force to crack, which I thought was strange as isn't this dish meant to have a very crisp and delicate exterior?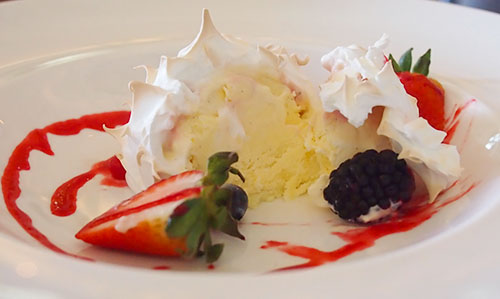 The most simplistic dessert was the Profiteroles with vanilla ice cream and hot chocolate sauce, which were basic puffs encasing vanilla ice cream and with just a little bit of chocolate sauce. It was pleasant but nothing stand-out. Come to think of it, the profiteroles at DB Bistro were helluva lot better!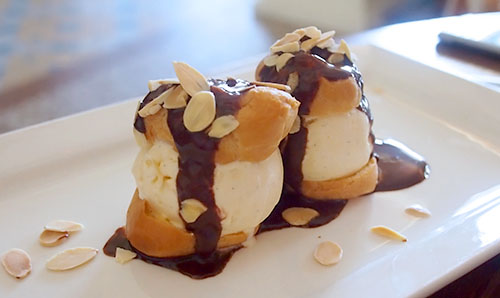 The BEST dessert was their Valrhona chocolate tart with strawberry ice cream, which I absolutely adored. Very rich and creamy chocolate encased in a chocolate tart, and served with a mini dollop of strawberry ice cream. This was pretty heavenly and the best dessert at our table IMHO 🙂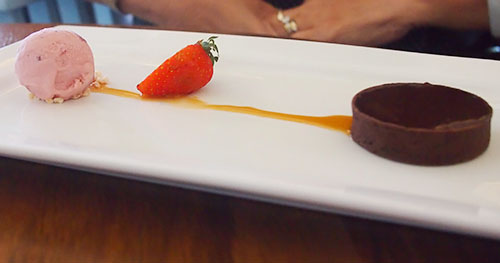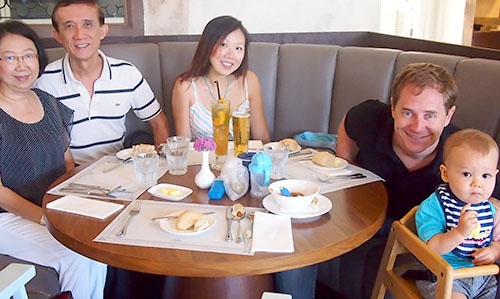 The White Rabbit's set lunch is available for $38 per head, which is a pretty good deal. Pay with a UOB credit card and the 4th diner eats free. Awesome!