I'd spotted the Braun Buffel multi bag around the end of last year, I think. I'd never paid attention to the brand before (as I didn't know much about it, nor seen it around much) but this particular bag caught my eye because of the colour and the design.
It truly is a multi bag. The straps can be changed in at least 5 different ways to change the 'look' of the bag! I was going to do an in-depth review with pictures showing all the different ways.. but then I got lazy (sorry).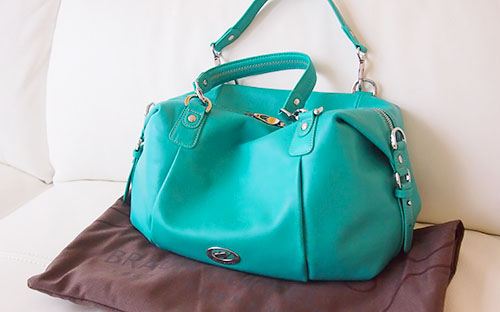 You can see above that the 2 short hand-straps are detachable. The bag also comes with an extendable long strap to wear on the shoulder, or across the chest. You'll also see that the side-flaps unbuckle, and that there are extra silver rings to hook the provided straps on. Because of that, the ways you can flip the sides up/down or use long/short straps are really varied.. and I like how the bag looks quite different when you do – in terms of the way it hangs, as well as the style.
The hardware gives a really satisfying 'clack' sound when you bump and carry the bag around, and the leather is thick and sturdy, but still slouchy. I suppose it's most similar to Miu Miu's leather. It smells really good too 🙂
And, obviously, the FANTASTIC COLOUR!! It's so bright and cheery, in my favourite colour – a stunning turquoise. It also comes in black and light grey, but this was obviously the standout for me.
I've been stalking this bag for quite a few months since, but never buying it because it's almost $500 and I couldn't justify the price. But, with the Great Singapore Sale on right now, it was on 40% off and so I snapped it up 🙂 VERY happy I waited!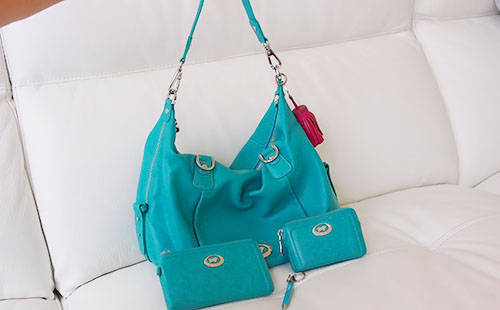 I also got a pair of shoes online that I wanna share with you cos they are AWESOME. They're the MErrell  barefoot pace gloves. They're very different to regular jogging/walking shoes. Heard of the whole barefoot/Vibram movement? Well, most of Merrell's shoes use Vibram's soles. These shoes offer incredible comfort, and they look way more normal 😉
What I was surprised about was how lightweight they are. Unusually, insanely so!! Not just light, but also really flexible. And they are COMFY. I wear them with thin socks and the light material of the shoe make sure my feet don't over-heat in Singapore.
I actually like them for regular walking (they look nice enough to wear around in the shops!), and I plan to jog with them after birth. They're pretty cute, right? 😛