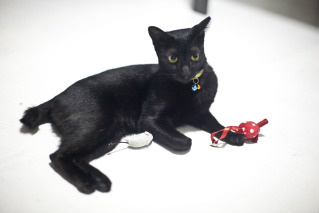 Are you a cat lover, residing in Singapore? Please read on if you have the space and heart to potentially home a sweet and loving cat – Jellybean. 
Jellybean was found by one of my blog readers and was a teeny tiny kitten. She's healthy and waiting for a family to love her. She doesn't demand your attention when you are busy, loves to entertain herself on a piece of string, a rattling ball, or watch the birds fly past. She's also a very smart kitty and a fast learner! You will laugh when she comes hopping by with her trademark lamb hop!
Jellybean is sterilised/neutered, de-wormed, de-flea'd, vaccinated and litter box trained.
Please help her find a loving home, and pass this message on.
And here's 10 Reasons why having a glossy black cat rocks 🙂
A lint brush isn't required for a black tie affair
Holding a black cat is very slimming
Black cat are a great accessory to any outfit
They will match any colour of decor
You will save money on their Halloween costumes
The are the least likely to be adopted
When you love a black cat, luck is on your side! Its true, her foster won the local 4D the first week she stayed in her house, and its not just $20!
They are genetically healthier
They don't care what colour you are!
Love knows no colour
Interested in adopting this lil princess? Please EMAIL offtofeedthecats@gmail.com to come and check Jellybean out, etc 🙂