I was delighted to be invited to a Drypers event, held at Cookyn Inc, my fave cooking party house 😛 The focus was on cooking healthy food which work both for young kids and also pregnant mums. I love planning and cooking Hunter's meals, so I was especially interested in the event, and even more so when I heard it featured salmon, one of his favourite foods!
I have never seen SO many pregnant women under one roof before 😉 Guess this really is a bumper year for Dragon babies. Hunter was the only kid there and so was all smiles with the attention he received.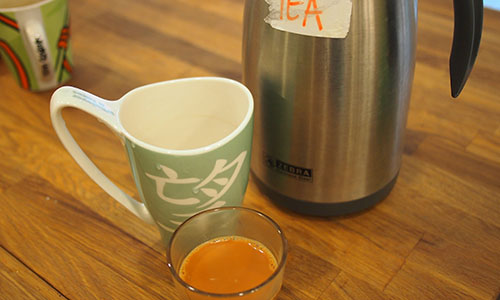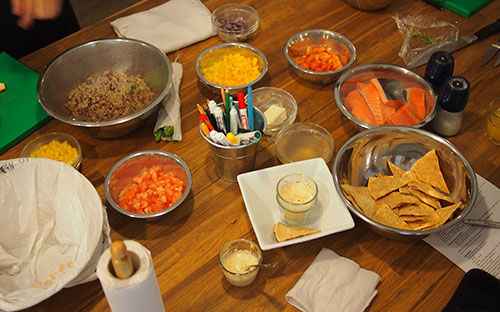 We made a beautifully simple and fresh hummus dip with toasted pita. It was very baby friendly and Hunter could munch on the chips as well as the hummus. It was quite the hit and made me realise that this is great to serve when we have friends over, because it's simple to whip up and oh-so-addictive!
The secret in the AWESOME chips? Use fresh (ie. soft) pita bread, cut into triangles, and bake in the oven for a bit. They come out crisp and they taste so good, better than the Doritos that we normally use when we eat dips.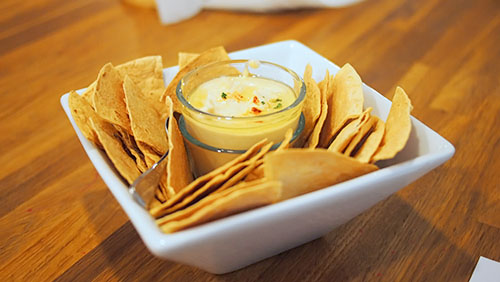 We also put together a wild rice salad. Honestly, it was pretty good! I NEVER thought I'd enjoy eating wild rice, let alone a wild rice salad.. But I liked the flavours of the ingredients and it was actually really tasty. It'd be a brilliant idea to make up a batch of this and store in the fridge (to let the flavours really permeate) and have it as a healthy lunch when you're in the office.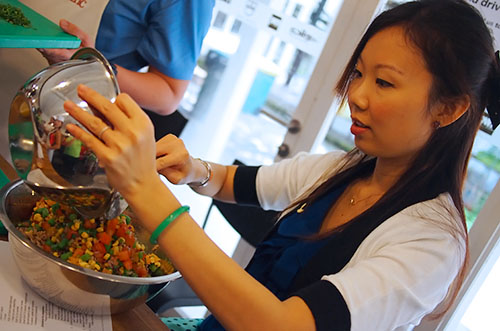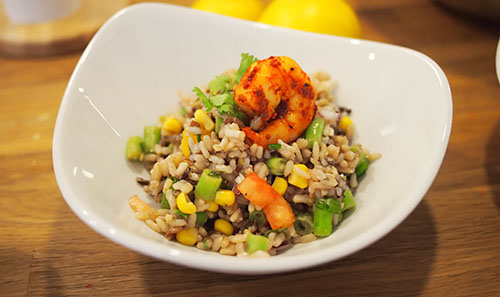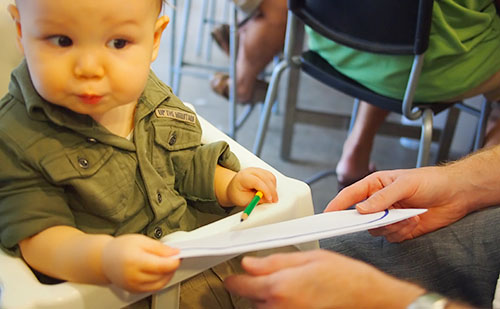 And…. the Parcel-wrapped salmon! OH HOW I LOVE THIS DISH!!! Will do it every time we buy salmon now. It works for both adults and babies, because the salmon is utterly soft. It's also laughingly simple to make: Get a slab of salmon and plonk it on unwaxed parchment (baking) paper. Pop in some diced cherry tomatoes and whatever diced veggies you want (I put in asparagus, zucchini, carrots), sprinkle on salt & pepper, and add in a small pat of butter. Wrap it all up like a bag, and pour in a tablespoon of chicken stock just before you seal and fold over the bag shut. Bake at 210 celcius for 11-12 minutes.
You will find the salmon so so so soft and moist, kind of like a poached salmon, but with a lot more flavour because it's been cooked in with the rest of the ingredients. It's LUSCIOUS 🙂 Hunter totally noms it up, and so do we.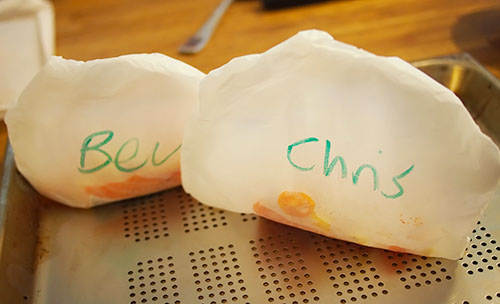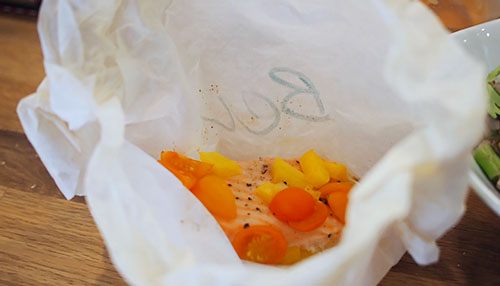 I'm normally not a fruit/berry person and would NEVER order trifle at a restaurant, but I'm a fan of Cookyn's Summer berry trifle. It's pureed strawberries, chunks of soft Sara Lee butter cake, vanilla bean-spiked fresh cream, and topped with blueberries. And it's just so tasty!