We're back from our Babymoon! We went to the Racha, which is about 45mins by speedboat off the southern tip of Phuket. It was the first time since our honeymoon (2.5 years ago) that we had our own "us time" to lounge around and soak in the sun. So it was very very appreciated and enjoyed, but I found it so difficult to be apart from Hunter for the first time ever!! It was fine during the day when we were out and about, but in the evenings and also mornings when it's quiet, I REALLY MISSED MY SON.
For that reason, I don't think I'll do another holiday without kid(s) again, or at least not for many many many years until they're teenagers or something. Even though he's under the best possible care staying with my parents, just the fact that I'm physically away from him really hurt. So next time, we'll do family holidays instead 🙂
I gotta admit though, it was rather blissful being with Chris and giving 100% attention to each other during our Babymoon! We got to talk a lot and relax a lot, which is rare since both of us can never simultaneously relax/switch off when Hunter is around us.
It was a perfect little getaway, and so glad we did it. FIRST and LAST holiday by ourselves, post-children!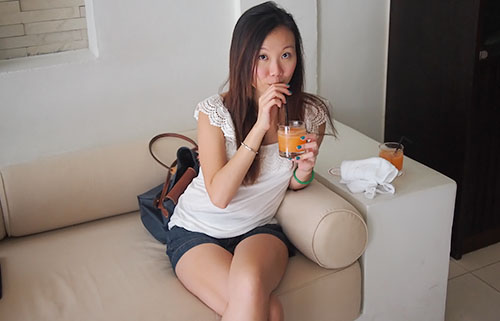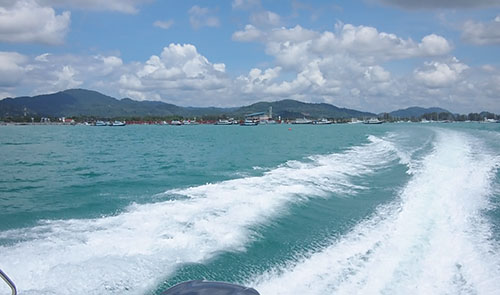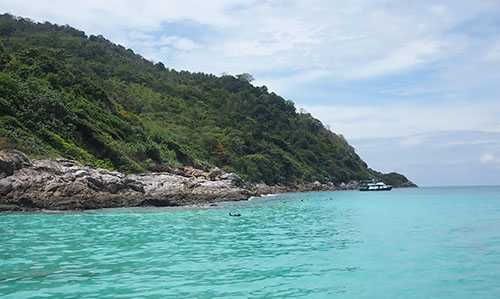 I think what shocked us the most upon arrival was that The Racha was not on a private island. After our Maldives honeymoon, I've associated boating to a resort on an island with the assumption that it's the ONLY resort on the island. The Racha is, by far, the luxury resort on the island.. but there were 2 or 3 other backpacker-type places there too. And this sounds reaaalllyyy snobby, sorry!, but I'd have preferred if the other places were more upclass, because it then attracts a different type of crowd. Sort of like the couple-retreat resort getaway VS the noisy crowded no-frills holiday with lots of kids or with fellow backpacker friends. I actually like the latter too if we wanna holiday on a budget, but it's a totally different vibe to a resort holiday…
For example, our jaws dropped when we approached the beach. Whilst gorgeous with clear waters and white sand, it had 200-300 deckchairs lined up – I kid you not!! It wasn't that big a deal though, because we spent 90% of the time ensconced in The Racha anyway, so didn't really meet or interact with anyone outside. But, a FAR cry from Maldives where the Shangri-La had it's own private island and hardly anyone there. The difference though is that the Maldives cost us 4x more, so can't really compare I suppose 😛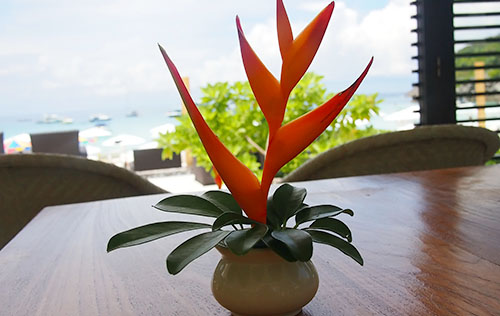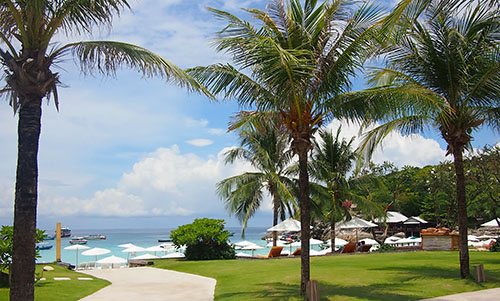 We were escorted to our villa, which was the Deluxe Villa because the Pool Villa that we wanted was fully booked, doh. I liked our villa though – it was pretty big with a luxurious bed, a large bathroom, and a huge library of free movies (we definitely made use of that!).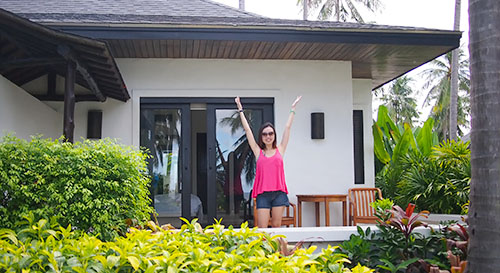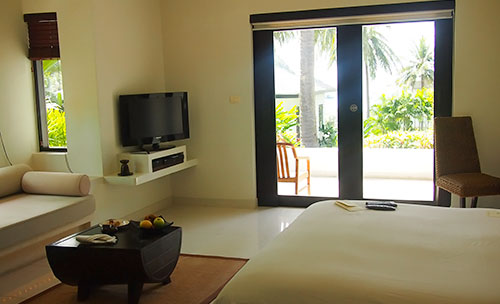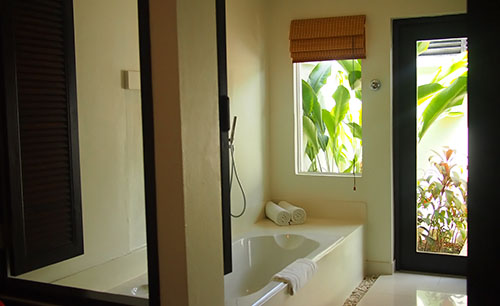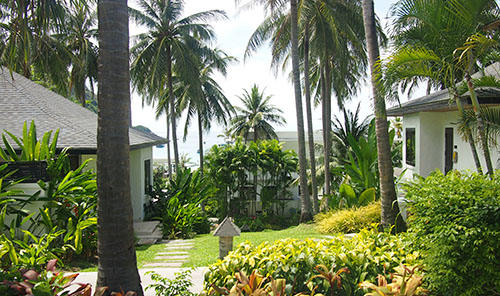 We did loads of lounging around and I really liked the fine white sand on the beach. The Racha has it's own private deckchairs on an elevated area, so it's not among the 200-300 deckchairs parked lower down on the beach. Very very nice to sun tan and chill out 🙂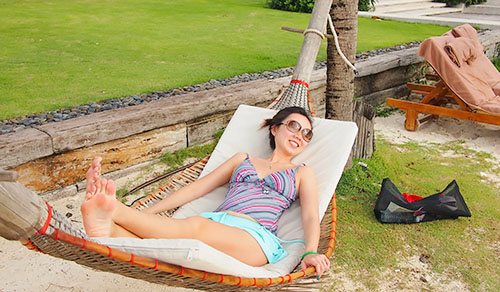 We also got a massage at their spa, of course! No beachside holiday is complete without a couples massage, right? 😛 Unfortunately, I fell asleep mid-way through mine.. I don't like sleeping during my massage 'cos I feel I don't get the full benefit cos before I know it, the massage is over! Darn 😛 One thing I really appreciated was that they give these little disposable black boy-shorts to wear, inside of the standard crappy/cheap white g-string or panty. A nice touch 🙂