Wow, it's 1 January 2012??
I feel like I've done virtually nothing to speak of all this year.. yet, I also feel like I've accomplished the greatest human achievement that ever existed – giving birth to and raising a baby. And, yep, that's basically what our entire year was about: Hunter.
I won't lie: having a baby is hard. Even with Hunter's docile-ness and lovely sleeping habits, having a baby has changed my entire life so much so that I don't remember my previous life anymore.
Pre-baby, my entire world was going out with Chris and doing whatever the hell we wanted, and spending on anything we wanted, with lots of partying thrown in for good measure. My world also revolved around my career which I was proud of and I used to think having a career was so rewarding, and couldn't imagine why women would have a child at the (possible) expense of achieving what they wanted in the workplace.
Post-baby, my entire world revolves, simply, around Hunter. He is the center of Chris' and my universe, the thing that holds us together so tightly as a family, and the one thing that has formed an unbreakable bond in our marriage. Nothing is more precious to me than to see the way both their faces LIGHT UP when they spot each other across the room – that, to me, is what true lovereally is.
I personally don't think mothers get much recognition out there. Now I realise the sheer amount of sweat, tears and plain 'ol effort that goes into raising a child. It's the most difficult thing to accomplish in one's life BY FAR; BAR NONE. And I think no one really realises that unless you're a mother, or a father….because I didn't either. There can be this automatic assumption that anyone who is a mum that doesn't work has heaps of 'free time' on her hands, bumming around and taking it easy. Now I realise and recognise the greatest yet most difficult 'job' of being a mum, and I will never EVER think being a mum is 'so easy' again 😉
Anyway, recap of my 2011:
January – Hunter Burgess was born, and our lives changed forever. I made probably the most iconic and memorable blog entries during this time, and Chris also blogged Hunter's birth story.
February – Our beloved ferret Misty passed away, just a few days after Hunter was born. We had our first photoshoot with Hunter, and most of this month passed in a haze of sleep deprivation.
March – We celebrated Chris' 30th birthday and I gave him a Jaeger LeCoultre master memovox watch.. which will be an heirloom for Hunter when HE turns 30.
April – Lots of progress updates for Hunter. We also gave Star, our ferret, away to a lovely French family.
May – We celebrated my first Mothers Day. Also did a 3-month old photoshoot before the move to Singapore.
June – We had Hunter's baptism and Chris celebrated his first Fathers Day.
July – My in-laws came to visit and met Hunter for the first time. Also started Hunter on solids. He went under day surgery for his tongue tie.
August – Chris and my second wedding anniversary 🙂 Also moved my blog from Livejournal to here.
September – Did the Body Age test and found out mine is 18 yrs old, wahaha! Got gel nails for the first time in my life and fell in love.
October – Went on our first family holiday to Bintan. Hunter also fell sick for the first time in his life, at 9 months old 🙁 And at the end of the month, we celebrated my 30th birthday aboard a yacht 🙂
November – Posted photos of the Hermes orange birkin Chris gave me for my birthday. Celebrated my aunt Susan's 60th birthday at Cookyn Inc. Got the Combi stroller for Hunter (an early Christmas present from Mum and Dad). Dad gave us a real scare at the end of the month when Dad had TGA.
December – Celebrated both Mum and Dad's birthday, Hunter's first Christmas, and Chris' parents and brother came to visit for Christmas/New Year. It's been a crazy busy month!
Here's a cute little snapshot that I got… note the stats below are only from August onwards, because that's when I moved my blog from Livejournal to here.
Attractions in 2011
These are the posts that got the most views in 2011. 
2011 was really good to us. Momentous and crazy, but good 🙂 I feel blessed not to only have a lovely little boy, but also wonderful family and friends. I can't quite think of anything I want different for 2011. So I'm looking forward to seeing what 2012 has in store for us…… 😉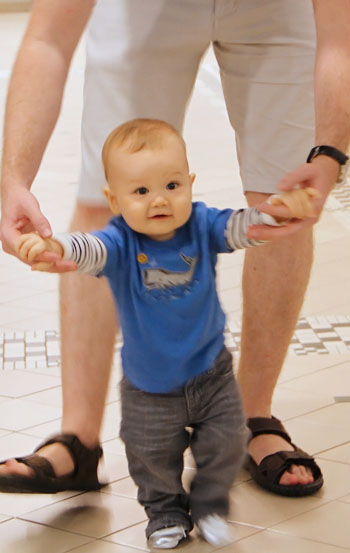 Let's Chat!