I haven't been very 'on the ball' with taking photos and posting about Hunter's playdates for the past few weeks.. mostly because it's a bit like "you've seen one, you've seen 'em all" sort of thing for everyone else IMHO, and aren't very interesting unless you're me or the mum of his playdate friend 😛 So I've spared you guys incessant photos of Hunter on playdates most of the time… but for this one, my gf's camera was too good to resist!! It miraculously captures not only us looking our best, but also our babies. Seeing her photos (below) makes me realise how critical it is to have a kickass camera when you have a baby – so you can capture beautiful moments of your child's development as well as lovely family shots.
Anyway.
This was just a little playdate at my place, simply a casual one where we could let the babies romp around, nap, and generally relax. It's also a bit better on our wallet since it is expensive going out on playdates – no doubt we start eating and drinking coffee, having desserts, and… errrr.. going batshit insane buying stuff for our babies 😉 It's generally safer for my mummy friends and I to have home playdates, because it prevents us from shopping!
We had a quite lunch just outside my place, because it's just too difficult for me to cook lunch and also handle Hunter at the same time. I could actually do it, but it would require a lot of planning and preparation on my part, and often I'm lazy. Ahem.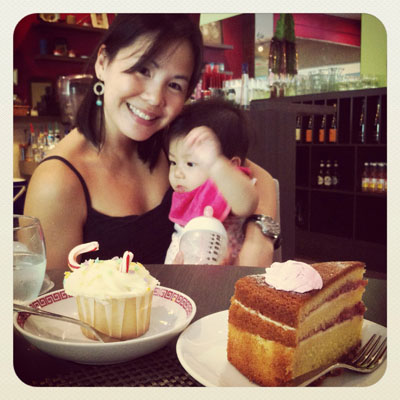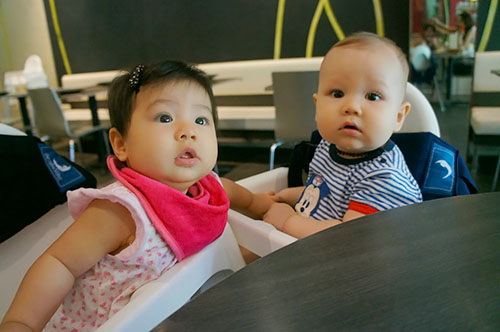 Our lil ones then got a chance to scramble around on Hunter's playmat at home and play with all his toys. The other beneficial thing about home playdates is that babies get a chance to play with a whole assortment of other/new toys when they visit another home. It's SO much cheaper than buying new toys all the time, and a few gfs and I have now agreed to do a bit of a "toy swap" so that we can still ensure we have stimulating, educational and fun toys for our little ones.. yet not break the bank. Our husbands are pleased 😉