Hunter has this French teddy bear that is particularly special because Chris picked it out for him before he was even born. We were in Paris and shopping at Galleries Lafayette back when I was pregnant, and Chris spotted it and insisted we get it.
Very glad we did, because Hunter LOVES his teddy. Just seeing it makes him smile and gurgle with sheer pleasure, and he'll grab it and mush it against his face and breathe in the smell. In fact, he'll place Teddy ON his face when he sleeps!
Considering he's so enamored with Teddy, we've had growing concerns that bad things will happen if it gets lost or destroyed. He depends on it so greatly to fall asleep at night (I swear this must be the reason he falls asleep by himself in 5 mins flat) that I'm scared to think of what will happen if Teddy is gone. We've been on the hunt for a replica, but I have no idea what brand Teddy is.. just the fact that we bought him in Paris! We've search online too, but to no avail 🙁
But then I discovered the Steiff floppy bear. I saw it whilst out shopping but costs $70 (!!!) in Singapore, perhaps because it's a German made and imported brand, and some sort of collector's brand. But it was perfect – the exact same fur that Teddy has, the same floppiness and feel, but just a different colour. So I found it online for cheaper and bought it!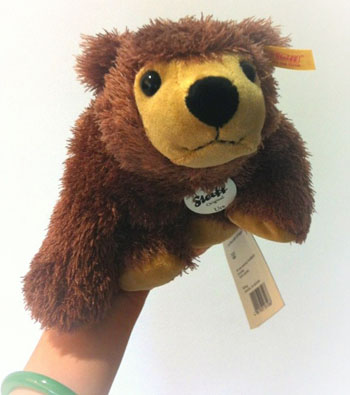 The awesome news is, Hunter took to Floppy immediately. Which is saying a lot, since he has a lot of other stuffed toys. He took Floppy quickly and with a happy 'lil grin. I'm pleased 🙂 The cost is worth it and at least this one is more easily replacable!
Hunter 'meeting' Floppy for the first time
httpv://www.youtube.com/watch?v=WkqJjMKzqXs
Isn't it cute how babies/toddlers really take to a certain toy or blanket? What does your kid love – a stuffed toy or a blankie? And do you have pics? Please tell/show me… I'm nosy and wanna know what the norm is with kids out there 😛
Mine – according to my parents – was a pillow (which I very, err, creatively, called "peeeee-ohhhhh!!!"). They often tell me that they would need to turn the car back around and go all the way back to my grandparent's place if it was left there by accident 😉
Chris – according to his mum – was a teddy that he would put a diaper on. Except the teddy was small, so it would be entirely wrapped up in the diaper. LOL!! (OMG LOL edited to add:) Chris says that because the teddy couldn't actually be seen inside the diaper, sometimes his parents just gave him a diaper to hug to sleep (without the teddy inside). Well, let's just hope it was a clean diaper. Muahahahaaa!!