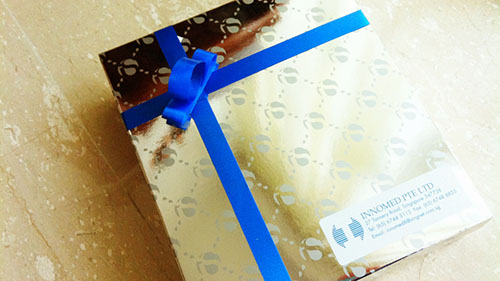 So this pretty gift box was our door gift at the iS CLINICAL skincare event. It was filled with some full-sized products and deluxe samples that I excitedly pored through. I was really impressed with what I'd learned at the event, not to mention their incredible chemical-peel facial that I had.. and so replaced my entire skincare regime (both day and night) with all these products, to see how well they worked for me.
My problem is that, since moving to Singapore, my skin has gone from 'pretty good' to 'awful'. There's something about the humidity that wrecks havoc on my skin, and so in the past 3 months, I've suffered from bad breakouts (that always leave angry red marks on my skin even after they've subsided).
So I was looking for something to clear up my skin and I've been really pleased with iS CLINICAL. The chemical-peel facial that I did gave me instant results and subsided a lot of the welts on my left cheek (ie. big zits that were about to surface), and I think the red marks are less obvious compared to before. And, my skin just feels clearer and cleaner and smoother. The only type of skincare that has this sort of effect on me are those with serums, so it's not a surprise that iS CLINICAL works for me since I've been using their serums.
And so, this is my review 🙂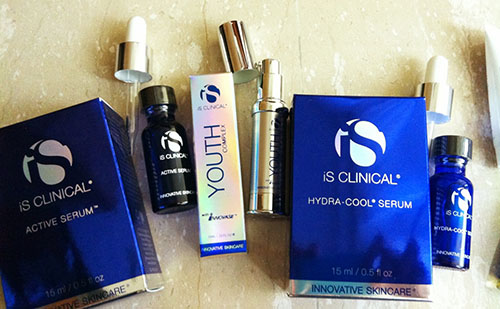 ACTIVE SERUM – I want to review this one first because, quite simply, I flat out adore it and think it is the best item in their product line-up. When I asked Alex "For someone on a budget that wants to purchase just one product, which one would be the most effective 'do-all' product that you would recommend?", and he said, "Active Serum". I can see why. It would be my #1 pick too. With a 8% glycolic and 1% salicylic acid, it is potent enough to make a remarkable change to my skin (love the tingling feeling when I apply it), but gentle enough for me to use nightly without aggravating or causing dryness. I also use this as a spot-treatment on zits and it really subsides them. LOVE this.
YOUTH COMPLEX – this is a rich moisturizer so I use this as a night cream, and on my cheeks/neck in the morning. I warm it up in my fingers then gently dab&press onto my skin. I don't think it has a fragrance but because of this, it smells a bit weird and medicinal. Guess we can't have it all 😉 The purpose of this cream is for wrinkle-reduction (using Innovase biotechnology) but since I don't have any, I can't say if it works 😛
HYDRA-COOL SERUM – this one is pretty fascinating because it's a moisturizer, but in serum form! This means that it's super refreshing on my skin and my pores don't feel like they're clogged (as they would sometimes when I use a cream moisturizer). It's also particularly gentle/soothing since it's in serum form and fantastic for humid weather or those with normal-to-oily skin. It's also recommended for treating sunburn and freshly shaved skin, and I can see why, since it has a deliciously cooling effect.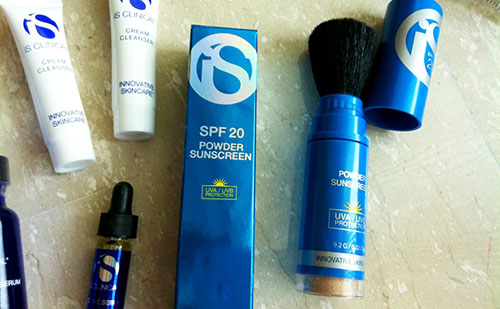 CREAM CLEANSER – I'll be honest, I almost always steer clear of cream-based cleansers because they just don't work on my oily t-zone, so I approached this one with trepidation. Frankly, I think this cleanser is excellent for normal-to-dry skin, but not for oily skin (no surprises there!). I found that it doesn't leave an oily film on my face after washing, which is fantastic, but I simply love the foam and squeaky-clean feeling a gel-based cleanser gives me. I use this in the mornings though, since I feel my face isn't as dirty then.
SPF20 POWDER SUNSCREEN – this is a physical sunscreen (titanium dioxide and zinc oxide) which is excellent because it makes sun protection more effective than in a chemical suncreen which many beauty brands use. However, since it's in powder form, it doesn't leave that dreaded white cast on the skin. I like the applicator, which makes it so easy to apply as a last step. Mine is the 'translucent' colour, and I'm eager to try the tinted version now so I can use it as loose powder! Best part of this? It's super portable, fab for chucking into your bag and re-applying during the day.
I'm very pleased with the products, and in particular, the ACTIVE SERUM and HYDRA-COOL SERUM. Now, I'm also keen to try:
Cleansing complex – I still want a gel cleanser!
White lightening serum – for my mum
C eye advance – for my horrific dark eye circles
Super serum advance – to compare against the Active serum..
Let's Chat!