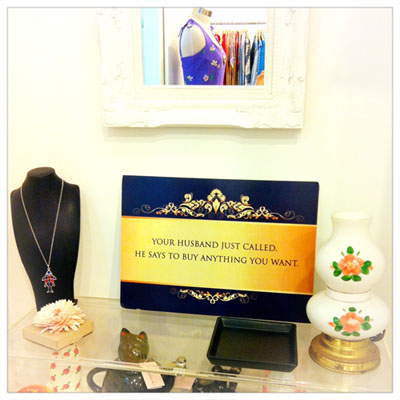 I saw this sign in a vintage store the other day, and LOL'd. How fabulous is it? 😉 I thought it was pretty apt to kick off this post today, since it's all about…. shopping.
I was expecting to attend the Juicy Couture event at Marina Bay Sands.. since they were launching their new season. Turns out, it was actually not that exciting. But we didn't care, because what we also realised was… it was a whole Fashion Event at the mall!
In fact, almost all the boutiques there were having mini parties in their shops, serving flutes of champagne, nibblies, etc etc. The vibe was bustling and happy, which was a lot more fun than a regular shopping trip 😛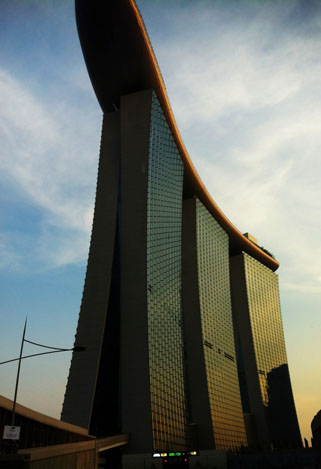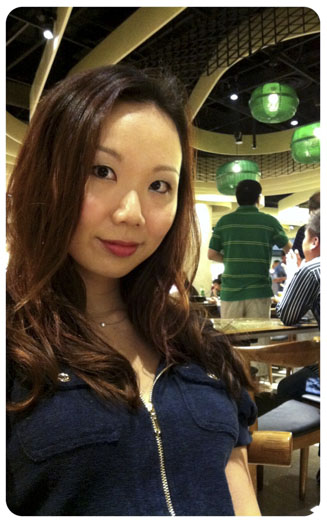 We did, however, get to check out the newly-launched Louis Vuitton building. I give em my Most Lavish award. It was all about open spaces and shiny bags all on display. The building also sits on the water, and has all-round paneled glass walls. Pretty cool, and very pretty against the water show at night.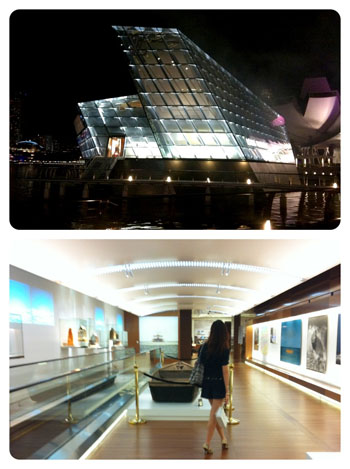 The boutique that I give my Best Service award to was Tiffany & Co. Check out their spread below. GORGEOUS, much?! They had beautiful little truffle chocolates shaped like Tiffany boxes, m&ms in Tiffany colours, yummy cookies on lollipops, tarts, etc etc. And they generously and eagerly served champagne, soft drinks, mineral water, etc. What wonderful customer service!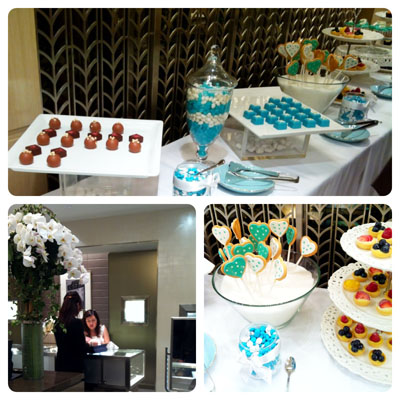 And my Weirdest Experience award goes to… La Perla. Cripes. So, they had these 2 gorgeous models in their storefront, wearing sexy lingerie and posing away. They had amazing figures and beautiful faces to boot. But that's not the weird part. The weird part was the crowd clustered in front of the window. They were almost all (China?) tourist men.. just STARING and leering so obviously at these young girls, and blatently holding up cameras and videocams to photograph them. Eeeek!
OK, so I admit I took a photo of them too, but I snuck a quick one in 😛 In fact, when we were watching the whole weird situation, they looked at us and gave us pained expressions. I felt so sorry for them because I would not like to be a gorgeous young lady parading in skimpy lingerie, and having these weird men taking photos of me! Plus, there was NOBODY in the boutique buying stuff either.. just tourists outside. Gak. AWKWARD!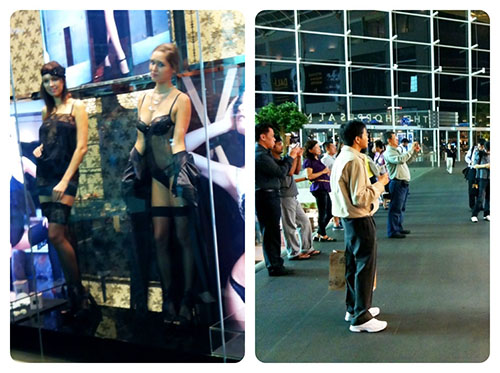 In the middle area, they had a champagne counter with a photobooth there, so we snapped a few pics. They weren't very good at warning us when they were snapping the pics though, and thus 2 out of the 4 photos has us looking like nutters making strange faces 😉