Brasserie Les Saveurs
29 Tanglin Road
The St. Regis
Singapore
Tel: +65 6506 6888
PRICE: $$$$
RATING: ?????
I'd never stepped foot into the fancy schmancy St Regis hotel before.. so was very keen to try out Brasserie Les Saveurs there during Restaurant Week. The dining room has lofty ceilings with glass-paneled walls, and a lovely quiet relaxed ambience that made it lovely for a long girly lunch. The service was really attentive and they obliged our request for "more bread" as well as served complimentary water – two things I particularly like to see in any restaurant 🙂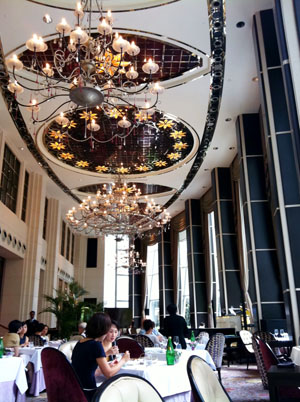 I particularly adored the (complimentary) bread basket. Their plain baguette in particular was lovely – soft and doughy on the inside with a gently crisp crust. We liked it so much we asked for more 😛 I must note, however, that my parents had lunch there a couple of days later and said the baguette was really tough and not very good at all. So perhaps they're inconsistent but when I was there, it was good!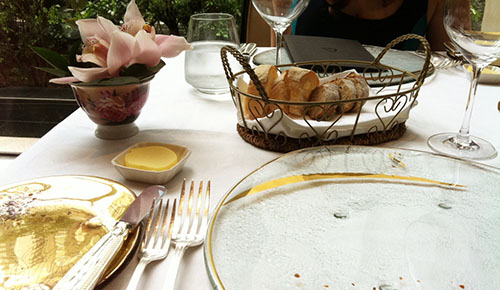 Our amuse buche was a chilled broccolli soup.. or it may have been asparagus, I forgot! It has a dollop of.. something.. on top which I also forgot what it was, but it made the vegetable soup taste good 😉
I'm a big snail lover (as in, to eat them, not to play with them!), and the Escargots in garlic, parsley and sundried tomatoes, bread croutons didn't disappoint. They were plump and tender and the little flat croutons they came on were crispy and so tasty, probably thanks to the fact that they were soaked in butter and then deep fried 😉
The French crab and avocado, herb salad, bread crisp, balsamic sorbet, however, was even better IMHO. Cold fresh crab meat paired with creamy avocado. But the best bit was the dollop of balsamic sorbet on top. It's a flavour that's hard to describe.. but it certainly didn't taste like balsamic vinegar. Perhaps more like a refreshing, almost citrusy flavour. Eaten with the crab and avocado concoction? LOVE! Only regret is that this should've been double the size 😉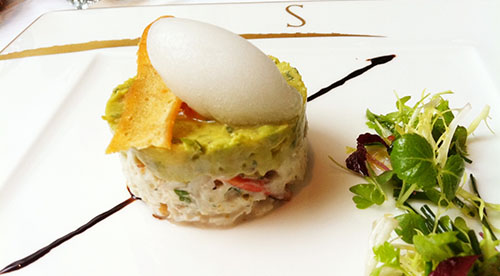 I never would have thought of ordering the fish dish, but my girl friend did and the Pan-seared French sea bream, confit of fennel and potatoes, rouille croutons, and bouillabaise jus came out looking so elegant and delish, and much like a plate of edible art work 😉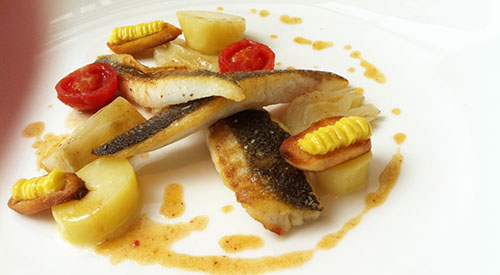 My Slow-cooked pork belly with mashed potatoes, garden vegetables and pork jus surprised me because it had so much fat in it. Perhaps 2/3 fat and 1/3 actual pork. I suppose it was my fault considering it IS pork belly! But I'd expected more of a crispy skin and more pork-to-fat ratio. On the plus side, the bits of pork I had were absolutely tender and not too salty, paired beautifully with the creamy buttery mash. There were 5 fat slices, but really, it wasn't sufficient to fill… so thank goodness for the complimentary bread basket, eh 😉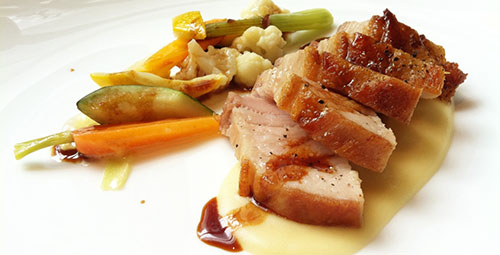 The waiter was a funny guy and convinced me to order the Araguani and passion fruit cream parfait, crunchy chocolate, raspberry sorbet, passion fruit jelly. Read that again. Doesn't it seem like it's a citrus based dessert that comes in a glass or something? I don't like citrus desserts and really only like chocolate ones, but he insisted "This really is very chocolatey", to which I threatened to return it to the kitchen if he was lying 😉
Turns out, he was right! It really was mostly a chocolate dessert.. I would describe it as layers of different types of chocolate desserts – from crisp solid chocolate, to mousse, to fudge, to crispy chocolate. The only thing I wasn't a fan of was the thin layer of passionfruit cream, so I just scraped that off.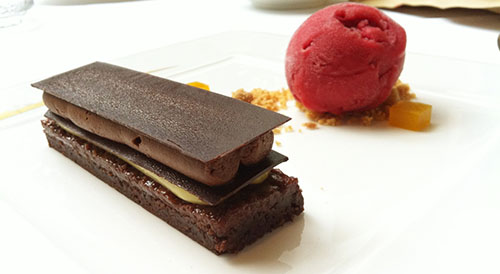 And funnily enough, the Slow-baked apple, calvados custard cream, green apple sorbet, which I thought would be a lovely apple tart, turned out to be basically cooked apples and a teeeeeny bit of pastry, with some odd foam on the side. It was nice enough but not spectacular IMHO.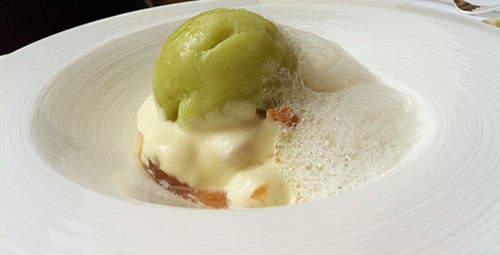 We were surprised to hear that coffee and tea were included in our set menu. Even better yet, they let us change them to lattes! And  did they look lovely 🙂 Must note, however, that when my parents went, they were not offered any complimentary tea or coffee… 🙁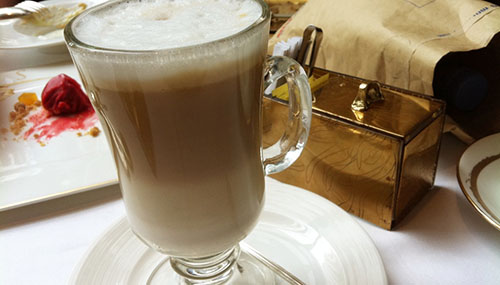 And check out my new mani/pedi – I'm liking gel nails, they are the only manicure I can do as a mother! This time, I did a clear-pink base with silvery glitter tips. They're pretty subtle but I like the glint in the sunlight 🙂