Hunter had never seen the ocean or sand before, so we wanted to take him to the beach for a swim during our holiday in Bintan. Can you imagine, seeing a HUGE body of water for the first time in your life? What about feeling sand under your feet for the first time? That is the privilege we have as parents – to be able to experience all these simple things through the eyes of our child 🙂
Chris insisted on decking him out completely with hat, rashie, boardshorts and sunblock.. because of his ridiculously fair skin which would probably sizzle after 2 seconds in direct sunshine 😉 He looked like a typical little Aussie boy. It was adorable!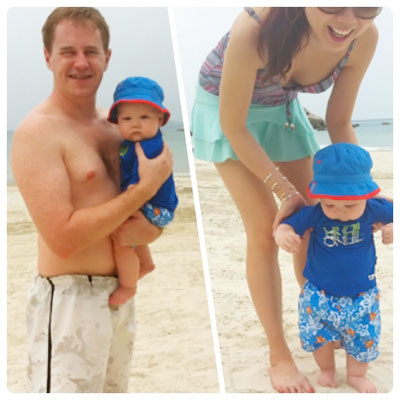 His reaction? Rather LOL-worthy 😉 He was incredulous at the sand. As in, gaping, wide-eyed, incredulous. We popped him sitting down on the sand and tossed some on his feet, and he just gave this horrified, "what the…?" expression. He kind of froze and just STARED at his sand-covered feet in astonishment. Haha!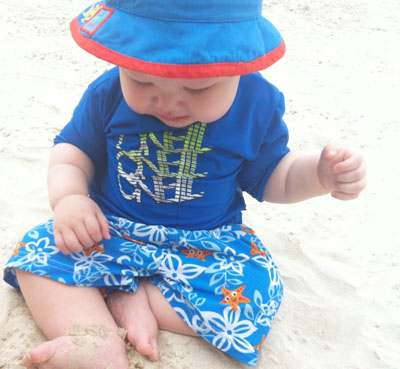 And touching cold, wet, sand where the waves lapped at the shore? Ummm.. his first time didn't pan out very well 😉 He was flat-out overwhelmed by it all. Guess it didn't help that he wasn't in the best of moods, since he was pretty grumpy with his snuffly nose.
When we plonked his two little feet into the water and sand, he immediately "flamingo'd" – that is, bringing one leg right up to try and avoid it! He wailed, but we couldn't help but laugh at his reaction. Yes, we are evil parents for laughing when he's upset, but it really was pretty hilarious 😉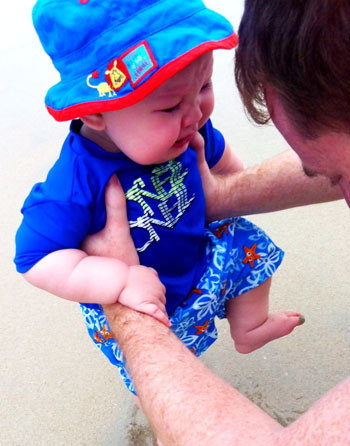 After all the excitement, shock and horror.. he got snuggled up and got loads of cuddles from us, for being a trooper. He generally is fine with new surroundings and rolls with new situations, so it was surprising that he was neutral-to-upset with his first visit to the beach. So I'm pretty sure it's cos he wasn't feeling well, as he was just fine the next day. Whew!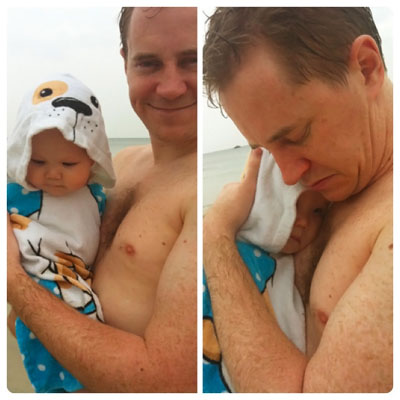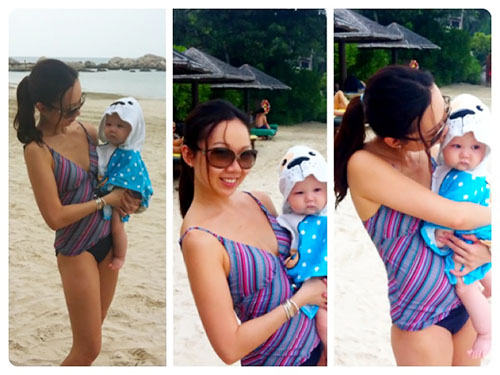 We spent most of the day lounging around on the beach. I mean, there's not much else to do, is there 😉 Plus, not like we can go jet-skiing, hiking, or all the other activities available. Things are pretty constrained when you have a young baby on holiday with you!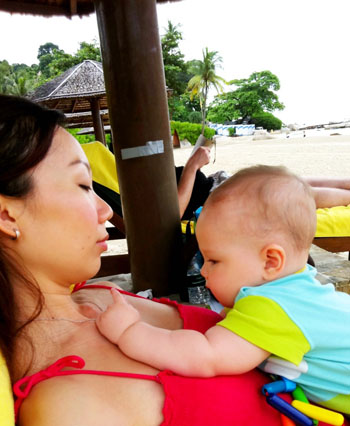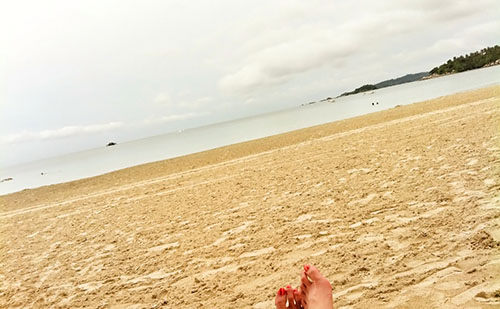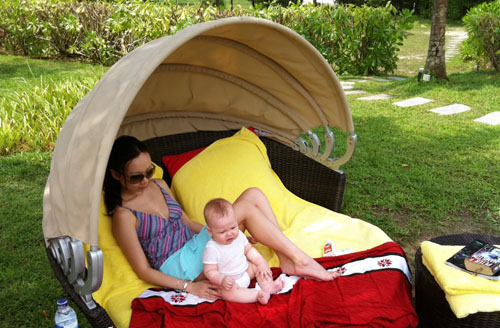 For those of you with kids – how did yours react when they first experienced sand and sea?
Would love to know if they liked it right from the start, or were a bit freaked out by it all (like Hunter)…!