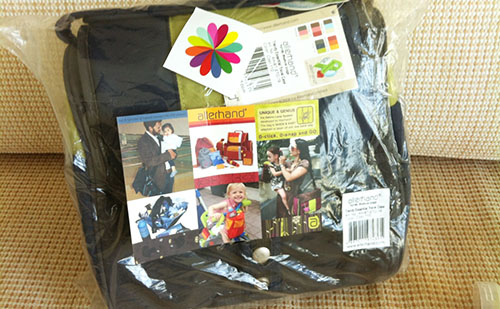 So here's another little something from Brandsfever, one of my favourite  flash-buy sites that sells fantastic stuff at a deep discount, ships out pronto, and I've never had any issues with.
I adore my Lassig diaper bag, but on days where I don't need to carry around a ton of stuff (and especially if I'm stroller-less and just have Hunter in the Ergo baby carrier), I'm loving this new Allerhand essential travel case I just got. It's just so functional!
The interior is roomy and easily wipes clean, and has lots of pockets and slots to put diapers, bottles, snacks, toys, etc into. In particular, the convertible handles at the top are SO useful – they can be snapped into loops for hanging the bag onto the handlebar of a stroller or snapped into a regular hand-carry handle. Super convenient!