Jones the grocer @ Dempsey Hill
9 Dempsey Road
#01-12 Dempsey Hill
Singapore
PRICE: $$$$
RATING:





The last time I was at Jones the Grocer, it was with my Aussie friends.. almost exactly 2 years ago! This time, it was for a laid back lil brunch with my cousin and faerieimp.. my two other Ladies Who Lunch friends 😉
I really like Jones because of it's open-plan layout, the huge communal tables, and the simple, no-frills food. I won't lie, I think their prices are pretty high for what you get.. but I suppose that's just part and parcel of dining in the Dempsey Hill area. Service is pretty swift and you can have a poke around their deli, cheese section, and general goods store afterwards. I'm always tempted to buy their gourmet pastas, snacks, etc.. but the prices have held me back so far. I think they make really lovely gifts, but not sure if I'd splurge to buy the stuff for myself.
Their breakfast menu is pretty basic. You can opt for standard eggs-on-toast, or be healthy with muesli, etc. There's nothing fandangled so it's actually pretty easy to order from. If you're after an elaborate menu, you'll be sorely disappointed. Despite being pricey, the food is all cooked well, and we enjoyed our meals. In fact, I enjoyed the sour dough bread so much (and this is a lot, coming from someone that dislikes bread in general), I was munching on it as-is.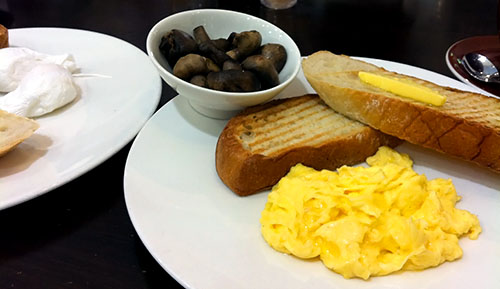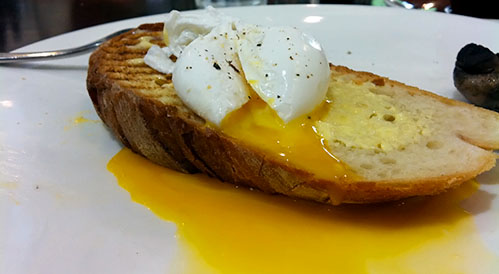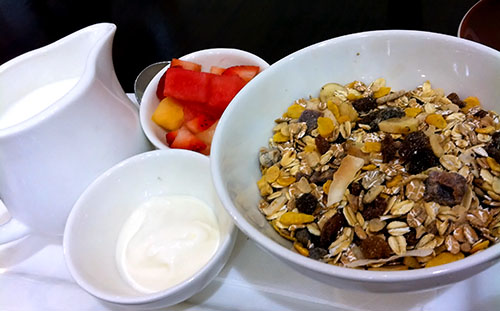 But the stand-out for me was their Hot chocolate. It came with a marshmallow on the side and was beautifully rich and creamy. Pity it came in a small espresso cup, I would have liked a big mug of this goodness!