Happy 7 month Birthday, Hunter!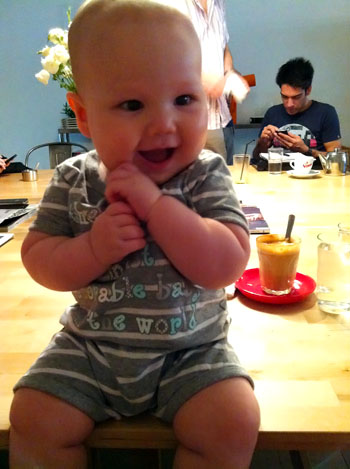 Our little boy is 7 months old today, and still brings such joy into our lives. I love seeing his personality develop each day and watching him learn. In the past month, he's really settled into his routines (and seems to love it), and hit a couple of milestones which surprised us.
He's a very cheery 'lil boy in the morning and with us/people that he knows well, but is quite aloof and almost snobby to those that he's not as familiar with. You know how babies normally grin and even squeal with delight when someone talks to/smiles at them? Not Hunter. He'll just regard you, proudly. And if you work really hard, he may bestow a small smile upon you. If not, he'll just look away like he can't be arsed with you. It's a bit embarrassing especially when friends or strangers come up to him to coo at him, and he behaves like this!! But I suppose this is his personality and we can't force him to change. In fact, he's very similar to Chris who is also more reserved and careful when he meets people, but is very cheery and lovely with people he knows/likes. Like father, like son 😉
MONTH 6-7 PROGRESS:

Eating – Remember how we started off with solids last month? Well, things went downhill. Real bad. He started on organic rice cereal which he was fine with, but then it gave him constipation, to the point where he wasn't poo-ing for 8 days (!) and we had to bring him to the doctor. So now I try to give him prunes and pears, but in general he doesn't like solids AT ALL. At best, he will tolerate it whilst making disdainful faces. At worst, he pushes it away, clamps his mouth shut, and gets damn grumpy upon just seeing the bowl/spoon from afar. Sigh. And he still gets constipated, so every 4-5 days he gets a suppository up his bum to help him poo – which he does within 15 seconds afterwards, and is still soft, so I know that the poo IS there and that it's not hard-pellets, but yet he won't release it!
In the interim, I'm breastfeeding almost exclusively, still. No choice because of his whole solids issue. At least this one is going well, perfectly, almost. That look of sheer satisfaction and unadulterated bliss on his face is priceless. It creates and cements this incredible bond between us that I can't really describe, but am so so so grateful for, and I feel this is my reward for suffering through all that awfulness in the first 2 months.
And this is more an update for me than about Hunter, but I also hit my goal weight of 43KG this month 😀 It's actually below my pre-pregnancy weight, and has been a goal weight of mine for maybe 2 years now.. so I'm pleased as punch I've hit it! YAY!!!!!!!!!




Sleeping – His sleeping habits are, touch wood, near on perfect. He's always been quite a good sleeper since birth, but this month became even better. Still, he's put down for his day naps/night sleep awake, and is left there to fall asleep on his own. Which he does within around 1-10 minutes. It's BLISS!!!! And we didn't have to 'sleep train' or do any sort of 'cry it out' method, because he chose to do this himself – which I am grateful for because I'm not sure if I have the stamina or the heart to let a baby cry himself to sleep…

Naps: now he does 2 naps a day (down from 3), and his morning nap is a glorious 1.5 hours! Finally!!!! It means I have the time to get breakfast done, do the dishes, wash clothes, fold clothes, organise the house here and there, and sit down for a bit on the computer. Oh the little luxuries.
Night: goes down at 7PM and sleeps til 7-7:30AM the next morning.

Reading a bedtime story at 6:30PM before 7PM bedtime

Hunter in action, falling asleep in 1.5 mins


Motor control – He's learned the pincer grasp, which means that when there's a small object (like a little piece of ribbon) in front of him, he uses just his thumb + pointer finger to pick it up. Not that impressive to look at or anything, but just cute to watch.
He's still sitting very well unsupported since he started about a month or so ago. Basically can pop him anywhere and leave him be, which is fantastic as it really frees up my hands when I take him out. But now he also stands whilst holding onto the side of the coffee table/couch.. and he also crawls – both of which he started a week after his 6-month birthday.

Singapore is fabulous for all their high chairs!

Playing on a toy car

Oh the concentration!

Took this video awhile ago, but here he is when he first
started crawling; doing the (v slow) commando crawl!





Talking – yep, he discovered his voice. Finally! Better late than never. Now, he goes "MumMumMummm" for me when he's hungry or wants some comforting, and babbles all sorts of various noises that we don't actually understand 😉 I guess it will take many more months for his speech to develop, but at least this is a start!
I only have just one wish for the next month – that he will eat and poop properly. Ahh how things change when you're a mother. And how amusing when your conversations now revolve around eating, sleeping and pooping.. like it's the most fascinating thing in the world 😉 But at the end of the day, we just want the very best for our children, and we can't help it if health issues (no matter how big or small) keeps us up at night with worry…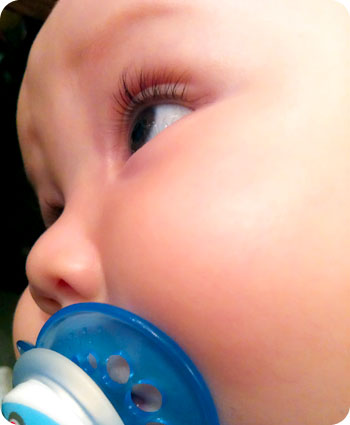 PREVIOUS PROGRESS: