Pique Nique
#B1-01 Takashimaya
Ngee Ann City Tower A
391A Orchard Road
Singapore
PRICE: $$
RATING:
Met up with who I've known for years.. we first met in Australia and are both now living in Singapore – so coincidental! Our hubbies are mates too, which is great, 'cos we can do double dates 😉 Of course, now we have baby in tow, so gone are our days of freedom and wandering around without a care in the world!
We hit Pique Nique (pronounced "pic-nic") which is said to be a 'New York-style bakery-cum-bistro'. It's all about clean lines, white washes, and understated furnishings. It's evidently supposed to be dessert-centric, so it was a bit silly of us to skip dessert! Instead, we opted for their American diner style food. Overall, I'd say the food is decent but not spectacular.


Pique Nique

Little desserts

Biscuits and jams on sale

The Whoopie Fries came out first, and the dish really disappointed us. For SG$8, you'd expect the fries to be freakin' outstanding. They were not. They were SO DOUSED with salt & seasoning that they were…… inedible. We are both greedy people *ahem*, so it takes a LOT for us to reject fries. And fries are my favourite food, so it takes a CRAPLOAD for me to reject them! But we just ate a little and had to stop. I told the waitress that they were inedible and way way way too salty, and she was pleasant, but just said "Oh, really? I'll tell the chef" and that was it. No making a new batch, no taking it off our bill, nothing. Big thumbs down.


Whoopie Fries – INEDIBLE.

Next was the Carbonara macaroni and cheese. It came in a cute skillet with a poached egg on top. I thought the egg was rather random, but turns out it was a great idea as the creaminess of the egg yolk went well with the dish. This was basic and nice, though I thought the sauce was a little lumpy and not as smooth and creamy as it could've been.


Carbonara macaroni and cheese

The Mushroom Swiss hot dog was AWESOME. I loved the soft fluffy bun, the tasty sausage, the lashings of sliced mushrooms and the melted cheese. And the plain fries it came with were FAR better than the sorrowful Whoopie Fries we ordered.


Mushroom Swiss hot dog

I'd go back for the hotdog, and perhaps try out their milkshakes and desserts.. but I definitely wouldn't order those fries again! Then again, I was a little disgusted with their lack of effort to make-good on an inedible dish, and I do think that with so much competition around, cafes need to be aware of what customers say and do something to make things right.
Anyway, Hunter was all decked on in his little sailor boy outfit, a gift from . Chris and I adore it, especially Chris, because he loves sailor outfits on his son, so this was perfect 😛



The outfit!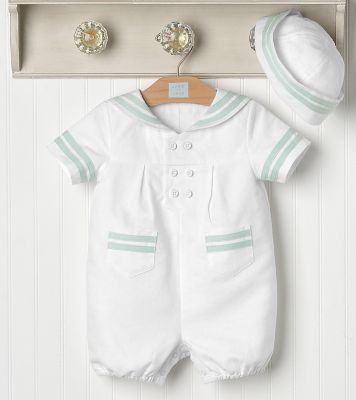 Hunter in it (hard to see)

Pic stolen from !

Let's Chat!